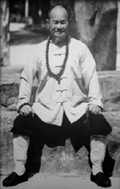 Daisigung Quek Heng Choon was born in 1926 in Huian county in the Fujian province of China. At the age of 13 he met a wandering medicine seller named Liu Pingshan who was a master of the Taizu style and became his student for three years.
In 1942, aged 16, his uncle asked him to join the army. He refused and left home to live in the Quanzhou Kaiyuan Temple. There, he studied martial arts under Monk Maoyue for 15 months learning Wuzu Quan Sanzhan Simen Quan 18 step Saozhuan Quan.
After this period he left the temple but realised that if he returned home, he would again be asked to join the army so he went to Xiamen to work in a teahouse before eventually deciding to move to Singapore to live with his aunt. In 1947 Quek Heng Choon went to Singapore aged 21 where he heard that it was possible to study martial arts in the Singapore Shuang Lin Temple where Seh Koh San was abbot at the time. He was eventually accepted as a student.
Seh Koh San was very strict with his students and insisted they remained inside the temple walls to study martial arts for at least three years, during which time they weren't allowed to step outside the temple gates. Training took place three times a day, at five in the morning, at midday, and at seven in the evening, every single day.
After seven years of dedicated training Seh Koh San informed Quek Heng Choon that his study of the arts had been successful, and that he could now 'come down from the mountain' (leave the temple).
In 1954, he left the temple with a classmate and together they started the Singapore Sao Hua San Athletic Association.
In 1956 he left for Penang where he founded the Penang Sao Lim Athletic Association for Seh Koh San. He spent two years setting up the school and finding new students for his teacher – at one time there were more than 300 people studying there. The school is now run by Master P'ng Chye Khim.
In 1958 he founded another school, Penang Sao Wah San Athletic Association, and later, taught at another school in Penang. The following year he went to Kuala Lumpur to work in the harbour and teach martial arts in a new village near the harbour, three times a day.